Autumn 2023 Fashion Forecast: Stay Ahead of the Style Game with These Must-Have Trends
Welcome fashionistas! As the leaves start to change and the air becomes crisp, it's time to update your wardrobe with the latest autumn trends. From cozy knits to bold prints, Autumn 2023 is all about making a statement while staying chic and comfortable. Whether you're a trendsetter or simply want to stay ahead of the style game, we've got you covered with our ultimate fashion forecast for this season. Get ready to turn heads and embrace the cooler weather in style! So without further ado, let's dive into the hottest fashion trends for Autumn 2023 that will have everyone asking "Where did you get that?"
The Latest Fashion Trends for Autumn 2023
Chunky Knits: Get ready to bundle up in style with oversized chunky knits. From cozy sweaters to cardigans, this trend is all about embracing comfort without sacrificing fashion. Opt for earthy tones like rust, camel, and olive green to stay on-trend this season.
Leather Love: Leather never goes out of style, and Autumn 2023 is no exception. This season, leather pieces are taking center stage with unexpected details and silhouettes. Think leather skirts with asymmetrical cuts or jackets adorned with statement hardware. Don't be afraid to mix textures by pairing your leather pieces with soft fabrics like silk or cashmere.
Print Party: Prints are making a bold comeback this autumn! Whether it's animal prints like leopard or snake skin patterns, or even abstract designs inspired by art movements such as Cubism or Surrealism – get ready to make a statement. Mix and match different prints for an eclectic look that showcases your personal style.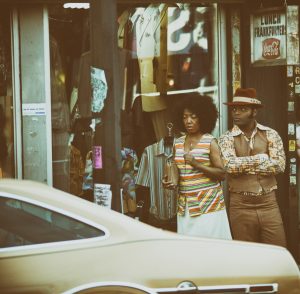 Sophisticated Silhouettes: Say goodbye to form-fitting styles and hello to sophisticated silhouettes. This season is all about loose-fitting garments that exude elegance while allowing for maximum comfort. Flowing maxi dresses, wide-leg trousers, and oversized blazers are must-haves in your autumn wardrobe.
Statement Accessories: Complete your ensemble with eye-catching accessories that elevate your outfit from ordinary to extraordinary. Chunky chain necklaces, embellished belts, and oversized sunglasses are just some of the trends dominating the accessory game this season. Don't be afraid to experiment – accessories are the perfect way to showcase your individuality!
Autumn 2023 brings a fresh wave of fashion trends that will have you looking effortlessly stylish wherever you go! Embrace the coziness of chunky knits while adding an edgy touch with leather pieces. Play around with bold prints and experiment with sophisticated silhouettes for an elevated look. And remember, don't forget to accessorize! Stay tuned for the next section where we'll discuss
How to Wear the Autumn 2023 Trends
Autumn 2023 is just around the corner, and with it comes a whole new wave of fashion trends to embrace. From cozy knits to bold prints, there's something for everyone this season. But how do you wear these trends in a way that feels fresh and stylish? Let me break it down for you.
First up, let's talk about layering. Autumn is all about layering different textures and pieces to create depth in your outfit. Start with a basic foundation like jeans or leggings, and then add on layers like oversized sweaters, cardigans, or jackets. Mix and match different fabrics and colors to create an interesting visual contrast.
Next on the list are statement accessories. Accessories can make or break an outfit, so choose wisely! This autumn, opt for chunky gold jewelry or statement belts to elevate your look. Don't be afraid to experiment with hats or scarves either – they can add that extra touch of style.
When it comes to prints and patterns, animal prints are still going strong this season. Incorporate leopard print into your wardrobe through tops, skirts, or even shoes for a fierce yet trendy look. If you're feeling bolder, try mixing different prints together – just remember to keep the color palette cohesive.
Speaking of colors, earth tones are making a comeback this autumn. Think warm browns, rusty oranges, deep greens – these shades will bring warmth and richness to your outfits. Pair them with neutrals like black or white for a balanced look that's effortlessly chic.
Don't forget about footwear! Ankle boots are always a go-to option during the autumn months. They pair well with almost anything in your wardrobe – from jeans to dresses – making them versatile yet fashionable.
In conclusion (without actually concluding), embracing the autumn 2023 trends is all about expressing yourself through layering different textures and incorporating statement accessories into your outfits.
So go ahead – step out of your comfort zone and rock the latest trends with confidence this season!
Where to Find the Best Autumn 2023 Fashion
Looking to update your wardrobe with the latest autumn 2023 fashion trends? Look no further! Finding the best autumn fashion is all about knowing where to shop and keeping an eye on the hottest designers and brands.
Consider checking out online retailers. With just a few clicks, you can explore an extensive range of clothing options from both established and emerging designers. Many online stores offer detailed product descriptions, size guides, and customer reviews to help you make informed choices.
If you prefer the tactile experience of shopping in person, visit local boutiques or department stores that curate their collections carefully. These brick-and-mortar establishments often showcase unique pieces from independent designers that may not be available elsewhere.
Another great option is attending local fashion events or pop-up shops. These temporary retail experiences allow you to discover up-and-coming designers who might just become your new favorites. Keep an eye out for advertisements or social media announcements about these exciting events happening near you.
Don't forget about thrift stores and vintage shops! They can be treasure troves filled with one-of-a-kind finds at affordable prices. You never know what gems you might uncover while scouring through racks of pre-loved clothing items.
Remember, staying ahead of the style game means being proactive in seeking out the best autumn 2023 fashion options. So go ahead and start exploring these different avenues for finding fashionable pieces that will keep you looking stylish all season long!
Conclusion
Conclusion:
As we gear up for autumn 2023, it's clear that there are some exciting fashion trends on the horizon. From bold colors to unique textures and innovative silhouettes, this season promises to be one filled with creativity and individuality. Whether you're a trendsetter or someone who simply enjoys staying up-to-date with the latest styles, incorporating these must-have trends into your wardrobe will ensure you stay ahead of the style game.
Remember, fashion is all about self-expression and having fun, so don't be afraid to experiment with different looks and make them your own. And when it comes to finding the best autumn 2023 fashion pieces, be sure to explore both online retailers and local boutiques for a diverse range of options.
With our comprehensive guide to the latest fashion trends for autumn 2023 and tips on how to wear them, you'll have all the tools you need to create stylish outfits that reflect your personal taste. So go ahead – embrace these trends, step out in confidence, and let your style shine!
Stay fashionable!